Streets
is set in a desolate, slightly futuristic city with various buildings and garages to enter into from the main street. The level has appeared in
TimeSplitters 1
and
TimeSplitters 2
.
Differences
There are differences between the TS1 version and the TS2 version of this level.
There is a shortcut leading from the blue team base to a building facing the red team's street in TS2. This shortcut does not exist at all in TS1.
There is a airplane flying in TS2.
It is snowing in the TS2 version but not in TS1.
More garages are open in TS2 (4 instead of 2).
Several of the signs (Most notably the Linux sign on a building) are gone in TS2. Some of the graffiti is also gone, though not all of it.
The music is different than in TS1, the mood of the songs changed as well. In the first, it was a heavy techno type song with a somewhat shrill beat to it, while in TS2, the song transitioned to a Trance-like melody, comparable to something heard at raves. In TS2, both songs are available in the mapmaker.
Trivia
The words, "Linux" can be seen on a wall between the blue team's base and the only alleyway in the level, TS1 only, hence its' trademark acknowledgement on the startup splash screen.
In both games, it says "Kaz Was Here" in one of the buildings.
This level has an irregular number of zones in TS2, having 5 zones instead of the regular 4.
In TS1, there is a billboard advertising what appears to be a hamburger, with the caption "Be free...have a BIG RAD!".
In the 2004 zomcom 'Shaun of the Dead', Ed can be seen playing TimeSplitters 2 on this map, with a Soviet S47 and a SBP90 Machinegun. Scenes from the film were recreated in the Mansion of Madness level of TimeSplitters: Future Perfect.
The plane featured in the TS2 rendition follows the player slightly, its fly-by follows the same flight path but it will move closer to where the player is located.
In TS1, there is a Free Radical Design logo on a wall.
Videos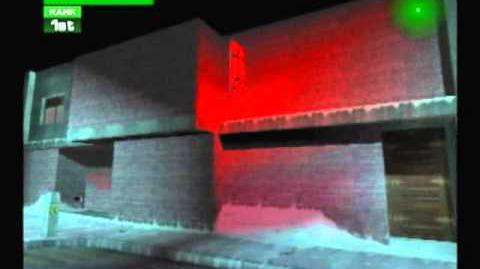 Community content is available under
CC-BY-SA
unless otherwise noted.