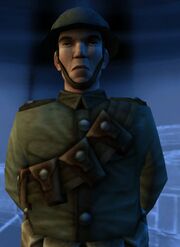 Nobby Peters is one of the World War I soldiers in 1924 Urnsay. He wears the standard WWI British Army uniform and is also equipped with a strapped Brodie helmet.
Appearances
Peters appears as a generic soldier in TimeSplitters Future Perfect. He appears as a member of the Vietnam bot set and in the Rumble In The Jungle match set in the same location. He also appears in the Zeppelin bot set.
Story
Peters was among the men who bombed the island of Urnsay in 1924.
Trivia
His voice clips are shared with Captain Fitzgerald, Sapper Johnson, Tommy Jenkins, and Deep Diver. They were originally used by Captain Snow, Captain Forest, Sergeant Wood, Private Grass, and Mikey Two-guns in TimeSplitters 2.
Whenever any of the other WWI soldiers are placed in story-mode Mapmaker maps, they will always turn into Nobby Peters.
Captain Fitzgerald, Sapper Johnson, Nobby Peters and Tommy Jenkins have the same gesture. However, the first two have the same piece of dialogue, whilst the other two share a different piece of dialogue.
Community content is available under
CC-BY-SA
unless otherwise noted.