Appearances
Edit
Unlock
Default
Gallery
Trained in the deadly art of kick-ass.
Gesture
Draws sword and makes threatening noises.
Speed
Stamina
Shock Proof
Fire Proof
6/8
4/8
5/8
5/8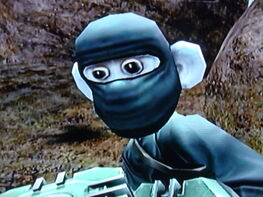 The Ninja Monkey is an ordinary monkey with the advantage of being clothed in black, in a style much like that of a Ninja, thus his name. He sports a strap around his torso holding up a sword. His skin is lighter than all the other monkey variations.
In the PS2 version, the save icon for TSFP in the internal memory browser is a Ninja Monkey.
He seems to be smaller than Monkey, making him the smallest character in Timesplitters: Future Perfect.
He shares his gesture with the Time Assassin.