This page is for the minor, non-playable characters (NPCs); non-playable AI in TimeSplitters that don't have a big enough role to merit their own page. Note that most of the names haven't been confirmed; those with fan-made names are marked in italics in the header. There is also a multitude of removed characters.
NPCs also have some confusing overlaps between Removed Characters; the difference between an NPC and a Removed Character is simple. If the character in question can be visually seen without hacking or tools, it's an NPC. If it requires hacking or external tools to view or access, it's a Removed Character.
TimeSplitters
Taxi (Spaceways)
The Spaceways Taxis are Vehicles that appear on Spaceways. They are essentially animated scenery, as they have no function in the game and are not interactive in any way. They appear at regular time intervals, but they cannot be damaged and cause no damage to a player standing in front of them - they simply push the player out of the way.
Their appearance being yellow with a black chequered design gives them the appearance of futuristic American taxis (based heavily on those that appear in The Fifth Element), but they drive on the left (Free Radical was based in England). They fly a short distance above the ground and lean into corners, as they go round them and have a convincing dipping motion when they stop. Their blacked-out windows mean no driver or passengers are visible.

TimeSplitters 2
Alien Fly
The Alien Flies are encountered in Return to Planet X and in Space Station. On Planet X, they appear from giant hives encountered after repelling the beach attack; on the Space Station, they appear out of nowhere underneath the Time Machine. It is best to run past and ignore them as there is no benefit to killing them. Attacking in swarms, a single shot is required to kill a single fly and there is a limited number that will attack.
A technique which involves attaching a plasma grenade to a single fly can destroy an entire swarm at once, but this may be considered impractical if the player wishes to conserve firepower.
They are considered to be the only native species of Planet X.

Bee
Bee
Species
Insect
Native TimeZone
1920
Relations
N/A
Appearances
TS2
Story
Aztec Ruins
The Bees appear in the Aztec Ruins. They are encountered close to the beehives which can be shot with a flaming Crossbow bolt to stymie further attack, however it won't kill existing bees and they will still cause harm.
The hives appear in several places near the beginning of the level but have been removed from the Arcade map, Aztec. The number encountered depends on the difficulty; the number of hives increase with each harder difficulty. The final one turns up in the hallway to the temple itself on Hard mode.

Big Tony's Brother
Big Tony's Brother is a non-playable character in the Chicago level. His car (based on a 1932 Buick Pheaton), armed with machine guns, must be destroyed before it gets away. If successful, he will have a fiery crash outside of a tunnel. It is unknown what he looks like, as his only appearance was in the car.
Some believe that Big Tony's Brother may be Mr. Big, but it is more likely that "Mr. Big" is just a nickname that Jake Fenton gives to Tony.
After destroying the car, taking a closer look at it reveals that there is nobody in any of the seats. However, in the Fall Out challenge where the same car is seen, this time stationary, Louie Bignose appears to be the driver.

Biohazard Container
The Biohazard Container features on the Siberia level underneath Oblask Dam. It contains a frozen, motionless, mutilated Reaper Splitter. It has its own health bar, though has no weaponry and does not react when attacked. It is however surrounded by several zombies.
It is found next to the Time Crystal, though the Biohazard Container will not be there initially on Normal and Hard modes. To cause it to rise, you must restore the power (by using the disc obtained in the level), which causes it to surface. On Easy, it's simply surfaced by default. It is easily destroyed with three Timed Mines.

Cardboard Characters
Consultant
The Consultant is a suited, generic character featured in both the Arcade League match, Men in Grey, and as a civilian on the Story level, Chicago. His appearance is very similar to the other civilians of the time period, the Lawyer and the Accountant, but with an altered body shape and changed face formation. He also sounds like Jimmy Needles, which can be used to find him if having trouble. It is unlikely that there is an obvious overlying reason that he was omitted as a playable character, while his fellow Lawyer and Accountant Assault comrades were included. He also possesses his own "character icon" that other playable characters have, as seen here:

Floor Turret
The Floor Turret is a unique enemy that only appears during the Robot Factory story mission. It appears as a small, mobile bot, that bears a slight resemblance to a Roomba, though is more angular in appearance, and has a much different task.
Approaching this bot causes its top hatch to open, revealing a laser gun, and its front hatches to open, revealing four homing missiles. The turret can turn 90 degrees to the left and right, but cannot aim at enemies behind it - it must manually turn to face them. Getting in front of it causes it to fire homing missiles. It can fire four, until it has to reload, which it won't do until its target is out of range.
Despite how dangerous this enemy seems, it is in fact an invaluable resource on harder difficulties; the reason being it is carrying a health pack on its back. Considering how difficult the robot factory is on harder difficulties, this enemy can prove to be a lifesaver if players are cautious. They must grab the pack before destroying the robot; destroying it before so will cause the health pack to be lost for good. The smart thing to do is to sneak around it and leave it alive until you desperately need the health, then head back towards the bot, grab the health pack, and quickly destroy it before you receive retaliation. The health pack is notable for being the only health pack in the entire TS2 story; only armour is otherwise found to extend your life.

Gasmask Special
Gasmask Special Forces
Species
Human
Native TimeZone
1990
Relations
N/A
Appearances
TS2
Story
Siberia
The Gasmask Special Forces ('Gasmask Special' in the game's files) are non-playable characters in the Siberia level. These characters are very similar to the Special Forces unit in the game, and are even referred to as such. They are commonly confused with Trooper Black, although they wear darker uniforms and have yellowish stripes on them. They also do not share voice clips; the Gasmask Special Forces use Trooper White/Trooper Brown's voice clips. During the last stage of the mission, these soldiers are deployed to exterminate all unidentified personnel and mutants in the Oblask Dam facility. They will initially concentrate on hunting mutants, but they will attack you once the mutants are dead.
Through a texture swap on GameCube emulator, Dolphin, the Gasmask Special is playable. Also through cheats (such as Cheat Engine) on the Dolphin emulator, you can play as the character itself.
The Gasmask Special has programmed stats; it is a 3-star bot, and all three of its stats (Accuracy, Agility, and Stamina) are 12, only on par with most Sergeants, rather than the other Troopers.

Gunship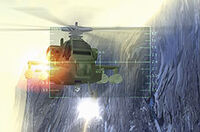 The Gunship is fought once you reach the top of Oblask Dam in Siberia on Normal and Hard settings. It is the second boss fight, after the Biohazard Container, and defeating it is the last major objective of the level.
The gunship has a machine gun and four destructible rocket launchers in its arsenal, making it very threatening at the end of the level when your health may be low. The easiest way to defeat it is with the Gun Emplacements but be wary of the Special Forces that constantly spawn from the lifts. The best option is to destroy the launchers first to eliminate its heavy firepower whilst fending off the troops.
Due to the open nature of the level, its possible to fight this boss directly after restoring power, and before destroying the container. In this case, it wouldn't make sense for it to appear, because Special Forces aren't deployed until after you destroy the container. The boss plays out like normal, but it has no health bar, and Special Forces still attack, despite not being deployed. It is possible to complete the level normally after this, though you must head back to destroy the container (and kill the mutants if you're playing on Hard mode).
Strangely, it appears to be an American Boeing AH-64A Apache in the beta version of TimeSplitters 2. It was changed to a more fitting Soviet Mil Mi-24D 'Hind-D' in the final version. The boss is fought similarily to the gunship in the Gameboy version of Perfect Dark, destroying a similar Hind's gun emplacements before focusing on the ship itself.

Bomb Bots
Bomb bots appear in Robot Factory out of launchers that activate when in close proximity. They attack by either flying into the player, or summoning reinforcements. They're fragile however and will explode in one shot.

Machinist's Robot
Motion Robot Turret
The Motion Robot Turret appears on Robot Factory and the But Where Do The Batteries Go? Challenge. Their initial appearance is like the Robot Turret, a barrel, and also like the Robot Turret, the lid lifts to reveal two cylindrical tubes, serving the purpose of eyes and guns. However, the Motion Robot Turret has spider-like limbs, which it can use to manoeuvre, making simply avoiding it complicated.
The Motion Robot Turret fires green Sci-Fi plasma bullets at the opponent. The most effective way to defeat the Motion Robot Turret is to shoot at its eyes. After several shots, the Motion Robot Turret's head will unhinge, which will neutralize the threat.

NeoTokyo Civilians
NeoTokyo Civilians
Species
Human
Native TimeZone
2019
Relations
N/A
Appearances
TS2
Story
NeoTokyo
The NeoTokyo Civilians are on the level of NeoTokyo. There are actually six in total, three of each gender. Whereas the females are not seen elsewhere in the game, the two males appear to be Accountant and Lawyer, but dressed in more casual clothes than their suited variants. Each civilian behaves similar to a Story AI set to patrol, with each having a wait point on either end of their patrol route. The two black-shirted males look almost identical, with one of the character models wearing white shoes (he uses Chef's TS1 voice, like the blue-shirted male), and the other wearing brown shoes (he uses Beetleman's voice). Here is a video for comparison. The blue-shirted woman uses Krayola's voice. The woman with a dark shirt and jeans gives her pain/death clips to Anya in TSFP (like the blue-shirted man, there's only one of her, and she doesn't respawn when killed). The woman in hot pants also gives one of her two death sounds to Anya.
NeoTokyo Patrol Car
The levitating NeoTokyo Patrol Car patrols the streets of NeoTokyo in search of wanted criminal Ghost. If the player should step into the field of vision, they will sound an alarm, alerting a squad of Riot Officers. On the Temporal Uplink, their area of sight is shown as a red shape pointing from the front of the car.
As well as appearing in the NeoTokyo Story mission, they also appear in the Challenge, Escape from NeoTokyo, where they are now after Chastity, for the much smaller reason of being out past curfew. Here, the Patrol Cars can use underside-mounted plasma cannons to open fire on the player, dealing one-shot kills. They also appear here stationary on the ground as a road block, which gives a chance to get a closer look at them.
Like many other aspects of the NeoTokyo level, the patrol cars are based on the 'police spinners' from Blade Runner. On closer inspection, the badge on the side of the car reads 'FRD PD'.

NeoTokyoan Suit
NeoTokyoan Suit
Species
Human
Native TimeZone
2019
Relations
N/A
Appearances
TS2
Story
NeoTokyo
The NeoTokyoan Suit is a grey-haired gentleman in a grey suit, who appears briefly in the cutscene for NeoTokyo, before getting pushed aside by Krayola. He does not appear anywhere else in the game.
Portal Daemon
Portal Daemon
Species
Demon
Native TimeZone
Unknown
Relations
Cropolite (Playable version)
Appearances
TS2
Story
Notre Dame
The Portal Daemon was a giant demon summoned by Jacque de la Morte, or having entered this dimension through spacetime rifts opened by the TimeSplitters and Jacque de la Morte's meddling with the Time Crystals. It was said that the full moon signaled his entrance.
After Viola and Mister Underwood ventured from the underground to the cathedral rooftops to defeat Jacque, the Portal Daemon entered and attacked. The Portal Daemon attacks by firing missile-like lasers from its eyes.
While there is no selectable giant Cropolite, there is a human-sized version playable in both TimeSplitters 2 and Future Perfect.
It is possible to play as the Portal Daemon or use it as a Bot by using cheats. As a Bot, if it dies, its death animation is glitched, and it will not respawn. Controlled by the player, the death animation is still glitched, but you can respawn. You retain the giant size of the Portal Daemon, meaning it is impossible to enter or leave certain buildings, and you are a massive target to be attacked. If you insert it as a story enemy in Mapmaker, it will behave as it does in the main story.
What's interesting to note is the Portal Daemon can be lit on fire. This is impossible in the story, but if you use the aforementioned cheats, you can light it on fire in a mapmaker story. This breaks its boss AI, and it will behave like a normal bot, running around on fire until it dies.

Railbot
Railbots (Also referred to as Security Railbots) are rail-mounted robots that serve the purpose as both cameras and subsequent auto guns, they can pass through several rooms in the factory. They can also be controlled by the player using specific terminals and used to shoot. These bots are easy to destroy, but can be quite damaging if left to their own devices. They are quite similar to the railbots in TimeSplitters Future Perfect, though they can only attack while on the rails, falling off once destroyed.
Robot Turret
The Robot Turret appears on Robot Factory. They appear as a barrel at first, but when a player moves into its proximity, the lid lifts up to reveal two cylindrical tubes, serving the purpose of eyes and guns.
They are similar to Motion Robot Turrets, but Robot Turrets cannot move and act as a stationary turret. They also fire green Sci-Fi plasma bullets at the opponent, but cannot aim up and down as the Motion Robot Turrets can. The only way to defeat one is to shoot at its eyes. After several shots to the Robot Turret's eye area, the raised portion will explode, killing it. Since these turrets cannot aim up or down, their bullets can easily be dodged simply by crouching and holding still.

SentryBot (Large)
This SentryBot is a larger version of the playable SentryBot. It is the version encountered in Robot Factory, as well as the Arcade League matches Night Shift and Demolition Derby. It is unique in that it is larger than the normal SentryBot, and has both a unique flinch and death animation (where it stops moving and gradually collapses backwards, which knocks its arms off; its arms twitch on the ground, before the animation ends). These animations even play when the character is damaged or killed in Arcade mode. Due to its larger size, it cannot enter certain doorways, which is probably the reason it was scaled down into the playable SentryBot.
It can be made selectable with a memory editor. Its programmed stats in Arcade are the exact same as the normal SentryBot. If inserted into a Mapmaker Story level, it will behave exactly as it does in Robot Factory; slow-moving, very durable, and attacking relentlessly upon spotting you. When spawning, they will also use the same animation and sound as they do in Story mode.

Stone Golem (Large)
This version of Stone Golem is the version used in Aztec Ruins as the boss fight encountered at the end. It can be made playable with memory editing.
The Stone Golems can only be killed by explosives (those fired by the Grenade Launcher found at the end of the Ruins, or by explosive watermelons thrown by renegade Monkeys), or by environmental hazards, most notably the fall-away floors seen in their first encounter.
Character-wise, the NPC Stone Golem is slightly larger than the normal Stone Golem. It also, interestingly, has different stats; the NPC Stone Golem's stats are actually the same as the SentryBot's stats, instead of the playable Stone Golem's. In Arcade mode, it does not have its trademark "invincibility to everything except explosives" characteristic, although if inserted into a Mapmaker Story map, it will. However, in Mapmaker they will always spawn with a weapon and act the same as normal AI, rather than using their unique melee attack.
Taxi (Chicago)
Chicago Taxi is a non-playable character in the Chicago level, it is a car based on the 1932 Buick Pheaton, like Big Tony's brother's car. It appears in all 3 difficulties & is summoned by using a phone box once the nightclub pass has been obtained. The taxi travels from the far end of the street to the nightclub & back, on the way the gates which are locked at the start of the level open for it, it drives on the right & swerves around Tony's brother's wrecked car, but not around the wheel that came off it. The taxi is interactive in a minor way, in that the windows can be smashed & bullet holes can be shot in it, bullet holes in the wheels turn with the wheels. However, this is the only damage that can be caused, and the driver cannot be harmed even with TNT. Similarly, the taxi causes no damage to players if they stand in front of it - it simply pushes them out of the way.
The taxi has very little use in the game; its ability to open the gates is of no help, as it only appears once the nightclub pass has been obtained, and with the pass, players can open the gates anyway. However, in two-player mode, it allows the player without the card to get through the gates before they have been unlocked, which could be useful if the other player has died, dropping the card in an awkward place. The taxi can also be used as moving shelter from enemy fire. Only 1 taxi appears at a time, and any attempts to call more get a message saying that all taxis are busy. When a new one is called, any damage to the previous one is gone.

TimeSplitter Machine
The TimeSplitter Machine appears in NeoTokyo, in the hacker's base. Upon entering the room he is in, he will fire blue electric bolts until the machine is deactivated. The Reaper Splitter may be killed, but this doesn't fulfill the mission criteria.
The TimeSplitter Machine has the top half of a Reaper Splitter and the bottom half in a machine displaying green liquid.
TimeSplitter Ship
TimeSplitter Ships fly by the Space Station during the final mission of the game, and it is a mission objective to destroy them using a Gun Emplacement. They can attack by firing yellow lasers, but this only happens when they're close enough, and even then, very rarely. The shots are also very easy to dodge, as they are not aimed, and only fly in front of the ship. 
Wood Golem (Large)
The Story version of Wood Golem, like the Stone Golem above, is used for Aztec Ruins.
The NPC Wood Golem is encountered several times in the early parts of the Aztec Ruins mission. Though they take damage from all attacks, this damage is vastly reduced, a whopping 99% (approximate) resistance to all forms of damage. The only way to efficiently kill them is to utilize fire; a flaming Crossbow bolt will set them alight and leave them (practically) helpless as they run away. They will quickly die once set aflame, but they can light the player on fire as well if one is not careful.
The differences between the NPC and playable versions include a different size (with the NPC Wood Golem being larger than the playable one) and different stats; the Wood Golem NPC has 14 in Accuracy, 4 in Agility, and 20 in Stamina (as opposed to the playable one's 6 Agility and 14 Stamina). In Arcade mode, it does not have its ridiculous resiliency to all but fire and explosives (though it shares its extreme weakness to fire with its playable counterpart), but when inserted into a Mapmaker Story mission, it will. Similar to its Stone Golem counterpart, AI will always spawn with a weapon in Mapmaker, instead of being unarmed like those in the Aztec Ruins.

TimeSplitters Future Perfect
Bathead
Batheads are black, floating creatures of unknown description. They are briefly encountered as the first enemies in Mansion Of Madness. They can only be harmed, like the Worms, with a Flamethrower in Story mode. They move through the air in a zig-zag pattern, and can travel through walls and any other surface; when they travel through a character, a loud, ghastly snarling noise can be heard and the character will take a decent amount of damage. What they are exactly is never specified; although Jo-Beth Casey and Anya call them ghosts while the in-game Challenges defines them as Wraiths; The former seems to back out of this statement upon encountering Edwina's ghost (see below).
They also appear in the challenge Brain Drain, however there are differences between their behaviour; any weapon can now destroy them, but instead of passing through a character and rapidly dealing damage, they will instead explode upon contact with a character.
Their name is never given in-game, however the game's sound files identify them as batheads.
Beetle
Beetles appear in the Mansion of Madness. If you allow them to reach you, they will begin to eat your flesh. At most times, the beetles are seen more as a dark mass than as individual insects. They are killed using the flamethrower. They are small, and travel in large groups.
In the PlayStation 2 version of the game, there far fewer beetles encountered (approximately quarter the amount in single player, and half in cooperative).
Cardboard Characters
Cleaning Robot
The Sweet Suck DP-T Cleaning Robot is a small robot used for janitorial work around the U-Genix Building. One appears in Breaking and Entering, where a terminal is used to call it in order to progress in the level. It resembles a sized down Sentry Robot, but it has a different head instead sporting cleaning apparatus.
Upon activation, it will begin reeling off its pre-programmed advertisement as it cleans the office:
"I am the Sweet Suck DP-T cleaning robot. I am ideal for both office and domestic use. No job is too small. I love filth, and my full range of accessories ensure no crevice is left untouched. I bring a smile to any owner's lips."
And also, if the player waits long enough:
"Never again feel ashamed to bring people into your home, after you have experienced the Sweet Suck DP-T cleaning robot you will never want to do it yourself again!"


Edwina's Ghost
Edwina's Ghost is the ghost form of Edwina, making her one appearance in the Mansion Of Madness. Her face is similar (if not the same) as Deadwina's. She, like the other ghosts, isn't playable in Arcade, however Edwina and Deadwina are there in her place.
Upon closer inspection (and it is difficult to see in the image to the right), one will notice that this ghost is actually taking the form of Deadwina, not Edwina (the only way to tell is to get very close to her and look at the mouth area).
She is able to generate fire.
Edwina's Ghost originally played a larger part in Mansion of Madness' story however this content was cut by the time of the final game.

Ghost
Helicopter
A pair of Helicopters appears in 1969 on The Khallos Express. The first one is easily dispatched by an activated SAM turret and then another by the HeatSeeker. This is a point in the game where a Wormhole sequence involving both Cortezes appears. In the first instance, the player must defend future Cortez from Henchmen while he destroys the helicopter, and again when they swap roles.
The helicopter is a Kamov Ka-50 Chernaya Akula (Black Shark), NATO reporting name 'Hokum-A'.

Janitor
The Janitor is a janitor, presumably working for U-Genix. He only has a cameo for a few seconds and doesn't appear in the level itself.
When Cortez cries out 'Damn it!' at the end of the 2052 levels, his shout attracts the attention of a cleaner wearing shades and sporting a grey moustache. Tipper is then shown in the arms of Kitten Celeste, saying 'Spaceman!', this showing a gag that Cortez's shout was so loud, Tipper was able to hear Cortez all the way from 1969.

Khallos (Jet Pack)
Khallos, sporting a jet pack, appears in 1969. He fires an unusual weapon, its projectile similar to that of the Sci-Fi Handgun of TS2. However, the projectile is slow-moving and only causes weak damage. A glitch can make Khallos invisible, but the jetpack can be seen.
Mark 1 Sentinel
The Mark 1 Sentinel (named as such in the game's files) is an enemy fought at the end of You Genius, U-Genix. This is a prototype for the R-100 series fighter later seen in Something To Crow About. However, they are faster and are armed with rockets and machine guns. Though they are not well armored.
Princess
R-100 Fighter
R-100 Fighters (Referred to internally as simply "flyingrobot") appear as enemies in Something To Crow About. They are the mass produced versions of the Mark 1 Sentinel, and were evidently given R-100 designations (though relations to the actual R-100 Series is unknown). Tougher, the R-100 lacks rockets and instead utilise lasers. They are noticably durable.

Ragbug
Ragbugs are minor enemies encountered in What Lies Below, during the battle with Princess. They are large, dog-sized flying creatures with two large wings, and long, drooping legs. Their faces are skull-like. Princess summons them as an attack. They merely fly around the arena, sometimes homing into you to deal damage. They mostly serve as a nuisance, and to distract you from targeting Princess's weakness (the canister in her mouth). Once Princess has been slain, they will all die with her. Their name is never given in-game, however, the game's files identify them as "Ragbugs".

Railbot
Railbots appear in You Genius, U-Genix. They slide around the rails and take a few bullets to destroy. They are very similar to their counterparts from TimeSplitters 2, however these fire blue lasers as opposed to yellow. They may sometimes drop down and become Spiderbots when damaged sufficiently.
Rolling Robot
Rolling Robots appear in Something To Crow About. They travel by rolling as a ball, then open and turn into a turret when they get close to their target.
This type of robot acts similarily to the well-known Droideka or 'Destroyer Droid' in Star Wars. The Rolling Robot approaches the player, unfurl and begin firing a battery of lasers. If you have the 'Fat Characters' cheat on, their unrolling animation will be strange and glitchy.

Sentry Robot
Sentry Robots are robots armed with machine guns that guard the U-Genix facility in Breaking and Entering. They can be quite dangerous to deal with as their dual-machine guns can inflict some serious damage with their guns whilst posing to be a resilient foe.
The best way to defeat a Sentry Robot is with a Time Disruptor Grenade, which can slow them down if they survive the detonation. Otherwise, the Dispersion Gun is also quite effective at destroying them.
Some of them can be disabled via security consoles dotted around the areas they appear in, but this only applies to patrolling Sentry Robots; Sentry Robots who join U-Genix security don't have this luxury. Once disabled, they can be killed by any means without retaliation, though this is ultimately a waste of time and ammo.
They have multiple voice quotes depending on the situation they're in.
"Proceeding." - When simply patrolling.
"Pursuing." - When chasing down the player.
"Pacifying." - When attacking the player.

Ship Turret
In Scotland The Brave, a gunboat attacks Cortez and Captain Ash when you enter the dock. It's manned turret will constantly attack until the crane is used to lift it from the boat. It's usually best to drop it into the surrounding water as it still fire, and roll around, if dropped elsewhere.
Spiderbot
Spiderbots appear in You Genius, U-Genix. These bots scuttle about, attacking any intruders. They also seem to take the form of Railbots but will only deploy if they take enough damage. While tough, they can be easily dealt with through Time Grenades.
Splitter Crow
Strudel
TimeSplitter Mothership
The TimeSplitter Mothership is briefly seen being shot out of the sky in Time To Split, but later serving as a mission objective in The Hooded Man.
Armed with guided missile launchers, its projectiles can be destroyed with the Gun Emplacement, during the fight. A constant juggle with destroying the missiles and damaging the ship itself is crucial to completing the objective.

U-Genix Gunship
The U-Genix Gunship is a flying vehicle that appears in Breaking and Entering. It serves only as part of the level's effects, such as shooting into the windows to allow Security forces to rappel in.

UltraNet Fighter
Fought during Machine Wars, UltraNet Fighters are deployed via distant airships, and attack the player when they are operating the tank and the Goliath.
Urnsay Tank
The Urnsay Tank appears on Scotland The Brave, and can be considered the first boss fight in TimeSplitters Future Perfect. Armed with a cannon and four machine guns, the Tank manuvers around the courtyard and stopping to aim and fire its gun. It's machine guns are notoriously accurate, making movement essential to avoid getting killed.
To destroy it, Cortez must hit it with a an explosive from either the K-SMG, or hand grenade, which would cause the tank to stall. Once immobilised, Cortez can run around to the back and plant a pack of TNT to the rear, causing incredible damage.
It's design appears to have been inspired by the contemporary Vickers A1E1 Independent, based on the machine gune turrets and general design.
Worm
The Worms were encountered in the garden of the Mansion Of Madness. They can only be killed, like the bat heads, with the Flamethrower. They dig underground, and ascend to attack their prey. When in the ground they can be spotted by looking for dirt and dust being kicked up across the surface of the ground. A scientist is trapped by the carrion worms and will thank cortez for stopping the pests.