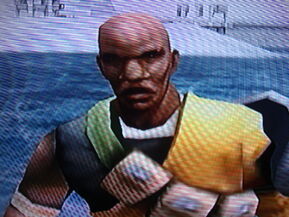 Mordecai Jones is a Cyborg who fought during the Machine Wars as seen in TimeSplitters Future Perfect. It is also interesting to note that he is related to Elijah Jones from TimeSplitters 2 and Peekaboo Jones from the original TimeSplitters. He wears an orange and yellow shirt and green trousers, the uniform for the human resistance during the Machine Wars. Like the rest of the units in the human resistance, he has been partially cybernetically altered as seen in his arms.
Appearances
Mordecai Jones

Unlock
Complete Machine Wars on Easy
Gallery
"The brave leader of the rebel forces in their battle against the machines. Mordecai can proudly trace his ancestry of fighting injustice all the way back to the Wild West.
Gesture
A buzzing sound is heard, and he swings his arms as though trying to swat away a fly.
Speed
Stamina
Shock Proof
Fire Proof
5/8
5/8
5/8
5/8
Mordecai primarily appears in the Machine Wars mission of TimeSplitters Future Perfect. He helps the player from the beginning of the level up until Sergeant Cortez enters the factory.
Mordecai is killed by a robot at the opposite side of the battlefield, making Angel Forge the only survivor that Cortez meets out of the resistance however if Mordecai is followed and the robots are eliminated it is possible to keep him alive.
Mordecai also appears in the Arcade League matches Lip Up Fatty and Astro Jocks.  He also appears in various Bot Sets.
Story
Main article: Machine Wars (Story)
Mordecai was one of the leaders of the Human Resistance fighting against UltraNet's robots during the Machine Wars. The resistance guide Sergeant Cortez to the UltraNet Complex while proceeding on the Robots, losing many men on the way.
Trivia