Jo-Beth Casey is the sister of Mary-Beth Casey and appears in both TimeSplitters 2 and TimeSplitters Future Perfect, with a noticeable alteration of appearance between the two. Much like Mary-Beth, she travels into a mansion and fights zombies; Mary goes into the Gallows Hill Mansion, while Jo goes into the Mansion Of Madness.
Appearances
Jo-Beth Casey

Unlock
Arcade League > Elite League > One Shot Thrills > Babes in the Woods with Silver or better
Gallery
Mary-Beth Casey's younger sister. Jo-Beth likes to sneak out of her parents' house at weekends to fight crime and kill monsters. Her high school show and tell sessions are really something quite special.
Accuracy
Agility
Stamina
12/20
20/20
4/20
In TimeSplitters 2, Jo-Beth was a rather small girl with glasses. She wears her hair in pigtails and is wearing a school girl uniform. She had no appearance in Story and was featured in one Arcade League and quite a few bot sets. Her same personality from this game is referenced in TimeSplitters Future Perfect, sneaking out of her parents' house, fighting monsters.
Jo-Beth Casey

Unlock
Default
Gallery
F'Sure
Gesture
Begins dancing with hands out in front, then up in the air says "Shake your money maker!"
Speed
Stamina
Shock Proof
Fire Proof
5/8
5/8
5/8
5/8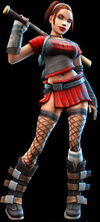 In Jo-Beth's return in TimeSplitters Future Perfect, her attire has become rather risqué. She still wears her hair in pigtails, and once again wears a red plaid miniskirt. However, she now wears a t-shirt with "SLUT" written across her chest, and wears a backpack with a cyan teddy bear attached to it. She meets Sergeant Cortez as she attempts to sneak into a supposedly-haunted mansion; he catches her off guard as she's climbing through a window and pulls her down. She then mistakes him for a zombie and kicks him in the groin, after which she takes a picture of him. She then realises her mistake and goes along with him into the mansion.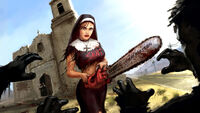 Jo-Beth Casey has appeared in some TimeSplitters 4 artwork, referencing Whore of Babylon featuring Jo-Beth's appearance mixed with a nuns, wielding a chainsaw with the text Saw of Babylon. There is an old church behind her, probably the one she is a member of, with the text "Our lady of the mixed blessing" over the door. It is stylistically quite similar to the Mexican Mission.
Story
Main articles: Mansion Of Madness (Story) and What Lies Below
Jo-Beth, a girl from Connecticut, played a secondary role in the Mansion Of Madness mission. Originally, she was trying to join Donny's gang. To prove that she was good enough, she was told to get pictures of the haunted mansion, as rumours circulated about zombies in there. Refusing to leave, she followed Sergeant Cortez into the mansion to investigate.
Cortez and Jo-Beth, after defeating Princess, ventured into the catacombs and laboratories beneath the mansion. Jo-Beth got separated from Cortez, and a number of Changelings tried to copy her form. After Cortez found Jo-Beth tied up, she continued to follow Cortez until they were separated a second time. Once again, Jo-Beth was stuck, leaving Cortez to fight off Princess once more. After Crow set off a timed bomb, they had little time to escape before the mansion fell.
After narrowly escaping from the mansion, Cortez and Jo-Beth find Old Crow discussing his plans with Young Crow, before they disappear using the time device. Cortez then does the same using his uplink, leaving Jo-Beth alone and bemused.
Trivia
In Timesplitters Future Perfect, her fire scream is unique to her, but in TimeSplitters 2, her fire scream is shared with the following characters: Lady Jane, Ilsa Nadir, Lt. Frost, Lt. Wild, Lt. Bush, Lt. Shade, Krayola, Milkbaby, Barby Gimp, Lola Varuska & Cyberfairy in TS2; Viola, Maiden, Kitten Celeste, Chastity, Kypriss, Mischief & Corp. Hart in TS2 & TSFP; Lt. Malone, Henchwoman, Elite Henchwoman, Neophyte Constance, Nurse Tourniquet, Inceptress, Lt. Black, Private Jones & Arial DaVinci in TSFP.
Cpt. Ash, Harry Tipper, Dr. Peabody, Khallos, Henchman, Chinese Chef, Jo-Beth Casey, Chastity, and Cortez are the only characters in the series to have more than one voice set to themselves.
In TimeSplitters 2, she reuses Mary-Beth Casey's voice clips.
Jo-Barf Creepy's voice clips are an altered version of Jo-Beth's Future Perfect voice clips.
Jo-Beth and Jo-Barf have the exact same gesture, but Jo-Barf's gesture dialogue is altered.
In TimeSplitters Future Perfect, she is voiced by Melanie Bond.
Jo-Beth Casey is Mary-Beth Casey's little sister. Mary-Beth appears in 1965, while Jo-Beth appears in 1994. The missions are 29 years apart, and judging by their in-game models, Jo-Beth in 1994 is younger than Mary-Beth is in 1965. There are easily over 30+ years between the two of them. It is possible that the Jo-Beth of TimeSplitters 2 is from 1965, while the Jo-Beth of TimeSplitters Future Perfect is a descendant who was named after her.

This is further backed up by the fact that the background colour of her Timesplitters 2 portrait is green, which is the same as all of the other characters within the Atom Smasher timeline and is only 7 years apart from the Mansion's timeline.

However, despite all of this, the creators have confirmed it is the same Jo-Beth in both games and that this time difference was just an overlook error on the developers part.

Unlike other skirt-wearing characters in TimeSplitters 2 and Future Perfect, Jo-Beth's legs and underwear are fully rendered and do not end in shadow past the hemline.
Ben Newman confirmed that, in Timesplitters: Future Perfect, there was an idea for alternate costumes for the characters. One of Jo-Beth's was supposed to be her School Girl uniform from TimeSplitters 2.
In keeping with the series' dedication to spoofing other video games, Jo-Beth Casey's activities in Timesplitters: Future Perfect (obsessively photographing ghosts and other supernatural beings) demonstrate similarities to the young female protagonists of the Fatal Frame series.
In TimeSplitters Future Perfect, she says "If mom finds out I snuck out I'll really be in trouble!", referencing her Timesplitters 2 gallery description.
Both she and her sister Mary-Beth Casey feature school-themed outfits. Mary-Beth wears a cheerleader uniform and Jo-Beth wears a school girl uniform.
Gallery