Appearances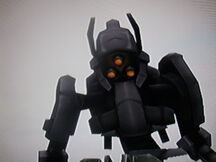 INSETICK SK/10
Unlock
Complete all Elite League matches with Golds or better
Gallery
Identical to the INSETICK SD/12 model in all respects save the custom black paint job. Cheekily this was classed as an option in the catalog and the manufacturers charged a hefty premium.
Gesture
Activates and says "Energized."
Speed
Stamina
Shock Proof
Fire Proof
6/8
4/8
5/8
8/8
INSETICK SK/10 is visually similar to INSETICK SD/12, save the color changes. However, his state of shockproof is that of a typical character, not the low level of a usual UltraNet robot, and his speed is high while his stamina is low. When he is selected, his voice curves upwards in pitch as the phrase progresses rather than downwards like the other UltraNet battle robots.
Interesting to note, his gallery implies that he is simply an INSETICK SD/12, only painted black and gold. However, his altered stats contradict this. Not only that, but his default AI is an impressive 4 stars (on par with the PROMETHEUS robots), double that of the SD/12. Of course, considering how the Gallery in TSFP is humorous in tone, it should be taken with a grain of salt.
Trivia
Community content is available under
CC-BY-SA
unless otherwise noted.