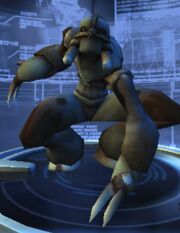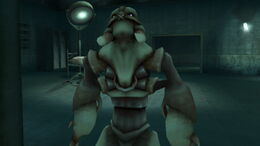 The Cropolite, referred to as the Portal Daemon in Story mode, is a large greyish-green and brown demon, with clawed hands and hooves. His larger unplayable incarnation, the Portal Daemon, travelled to the Notre Dame Cathedral from a different dimension.
Appearances
The Cropolite appears in Story mode as a huge enemy called the Portal Daemon. Out of Story mode he doesn't appear in any Arcade League matches or Challenges, but does appear in the Hospital and Misfits Bot Sets.
The Cropolite
Unlock
Default
Gallery
A demon from another dimension, the Cropolite has been drawn to our world by the spacetime rift opened by the TimeSplitters.
Gesture
Shouts 'Die' in a zombie-like voice, while jumping and swiping.
Speed
Stamina
Shock Proof
Fire Proof
5/8
5/8
5/8
5/8
The Cropolite plays no proper role in this game, only appearing in the Creatures and Temple map Bot Sets.
Story
Main article: NPCs#Portal Daemon
Trivia
The Portal Daemon is over two stories tall.
His name, as well as colouration, may possibly be a reference to the trace fossil 'coprolite'.
His fire scream and pain/death voice clips are exclusive to him.
He shares his gesture with Berserker Splitter, but with different gesture dialogue.
Community content is available under
CC-BY-SA
unless otherwise noted.