Compound
first appeared in the original
TimeSplitters
and reappeared in
TimeSplitters 2
, with a visual upgrade and an added rain effect, though lacking the helicopter flying above in the original. It features a small warehouse/office building for sniping, and a medium sized compound with stacked crates for hiding behind. When it re-appears in Timesplitters 2, the bot set suggests that it is set in the same time period as
NeoTokyo
, which is further backed up by the weapon set.
Trivia
This map could possibly be a reference to a part of the Depot level in the Nintendo 64 game GoldenEye 007 featuring a similar-shaped building with an identical indoor layout.
The color scheme inside the building is similar to the Archives level from GoldenEye 007, except the floor tiles are checkered and the green and grey walls are reversed.
Although there is no helicopter in TS2, its sound effects can still be heard throughout the map.
Videos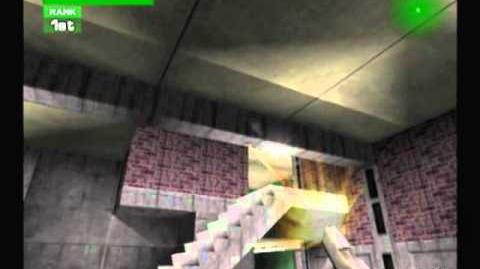 Community content is available under
CC-BY-SA
unless otherwise noted.