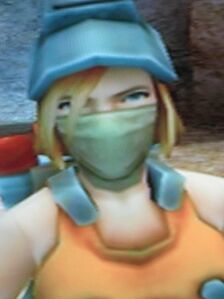 Angel Forge is a character in TimeSplitters Future Perfect. She has a mechanical right arm and right lower leg.
Appearances
Edit
Angel Forge

Unlock
Default
Gallery
You can ask all you want - but, despite appearances, she's not actually a real welder...
Gesture
Slaps thigh and says "Take a bite of this! It's a peach!"
Speed
Stamina
Shock Proof
Fire Proof
5/8
5/8
5/8
5/8
She is one of the rebels fighting in the Machine Wars. She is part of the rebel force that helps Sergeant Cortez reach the UltraNet base.
The name Angel Forge was a last minute change from the name Juliet Forge. This is evident in non-English versions of the game.
She reuses voice clips from Ringmistress.